ABM Archive Website
THIS WEBSITE CONTAINS ARCHIVE MATERIALS FOR HISTORICAL REFERENCE ONLY
For up-to-date information, including our latest appeals, news, and resources, please visit our current website.
WonTok youth conference tours Australia
May 24, 2016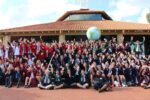 Media Release
The Anglican Board of Mission has partnered with UnitingWorld to host the 2016 'One World WonTok' youth conference tour across Australia over two weeks in May.
The conference engages high school students with the big issues in global development, with a focus this year on the new international push to eradicate extreme poverty via the UN Sustainable Development Goals (SDGs) and how climate change is affecting progress towards the goals.
Special guest Reverend James Bhagwan from the Methodist Church in Fiji is speaking about his unique experience working in community development and how the increase in extreme weather events like Severe Tropical Cyclone Winston in February highlight the need for a sustained global response to climate change.
"Educating the next generation about the Sustainable Development Goals is essential because they will be the ones to continue this work, and their children who will be affected if we don't meet the targets in 2030" says Rev. Bhagwan.
"WonTok engages their head, their heart and their hands – and that's is what will keep them switched on about what's going on in the wider world."
The conference features interactive workshops that familiarise students with the SDGs and go deeper into issues of global citizenship, gender inequality, poverty and the interconnectedness of the issues that threaten our world. WonTok also gives practical knowledge and information to students about how to engage as global citizens where they're at, within their interests, and how they can connect with the majority world in powerful ways.
The One World WonTok conference runs on the Gold Coast and in Brisbane, Perth, Adelaide, Melbourne and Sydney each year.
For registration details or more information, contact
Greg Henderson education@abm.asn.au
0423 251 153
> Listen to the Reverend James Bhagwan being interviewed about the Wontok Conference by Pacific Beat on ABC Radio:
http://www.abc.net.au/news/2016-05-26/fiji-minister-trying-to-interest-australian-high/7449462