ABM Archive Website
THIS WEBSITE CONTAINS ARCHIVE MATERIALS FOR HISTORICAL REFERENCE ONLY
For up-to-date information, including our latest appeals, news, and resources, please visit our current website.
World Humanitarian Day
August 19, 2019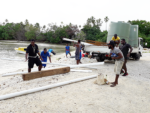 Today is World Humanitarian Day. Some of us are praying for those who are rebuilding their homes or gardens after devastating natural disasters, and for those displaced people around the world who are living in makeshift camps. Some of us are wondering what we ourselves can do, or about the bigger picture of what is being done at international level.
Today is a day for all these thoughts.
Weeks and months after stories of conflict and natural disaster flitted across our television screens, millions of fellow human beings remain displaced. In fact, UNHCR says in 2019 there are 70.8 million forcibly displaced people – the highest levels of displacement on record. 25.9 million of these are refugees – forced to flee their own country. 3.7 million are now hosted in Turkey, 1.4 million have fled to Pakistan and 1.2 million have fled to Uganda. Australia accepted 18,750 refugees in 2018. These fellow human beings are trying to piece their lives back to normal. For some, living with traumatic memories, life will never be the same.
Many of Australia's neighbours were struck by natural disasters. With assistance from ABM supporters, ACOM Vanuatu provided relief supplies to those fleeing the volcanic eruptions on Ambae Island, and Anglicare PNG installed water tanks in highlands areas of PNG that were affected by an earthquake. ABM support also reached villages devastated by cyclones in Tonga and the Philippines, and by a tsunami in Indonesia.
For those of us living more comfortable lives, humanitarian crises may seem too enormous to be addressed by individuals…. especially by individuals living far from the refugee camps and the halls of power. But part of the roadmap to world peace lies with the Sustainable Development Goals, and the UN reminds us that there are things that individuals can do even within our own homes. The Australian Council for International Development (ACFID) urges us not to send container loads of unsolicited second-hand goods to countries hit by disaster, however we can certainly send our own pocket money. The money can go through ACFID-registered aid agencies like ABM, which carefully direct funds to the better planned, better supervised programs. Or it can go through less formal channels. Also, ABM's own website contains suggestions for how you can help, like advocating for justice or becoming a volunteer.
Finally, there are those of us who are thinking about what is being done at international level. Part of the solution lies in achieving the UN-backed Sustainable Development Goals, which are ultimately aimed at creating a more just world and reducing risks of environmental catastrophe. Australia is one of the 193 countries that signed up to the SDGs. Other international agreements and guidelines focus more specifically on humanitarian response. These include the Core Humanitarian Standard on Quality and Accountability and the Sphere Standards for humanitarian response. ABM's humanitarian response policy and guidelines are built around these standards.
Today ABM gives thanks to our local partner churches who have worked alongside disaster-affected communities in the past 12 months in PNG, Vanuatu, the Solomon Islands, the Philippines, Indonesia, Myanmar, Tonga, Gaza, and Mozambique. We also give thanks to those in Australia who have supported humanitarian work through donations, prayers and in other ways. With record levels of human displacement and with climate change continuing, ABM affirms our commitment to supporting humanitarian work.