ABM Archive Website
THIS WEBSITE CONTAINS ARCHIVE MATERIALS FOR HISTORICAL REFERENCE ONLY
For up-to-date information, including our latest appeals, news, and resources, please visit our current website.
World Water Day 2016
March 22, 2016

More than 650 million people are currently living without access to an improved source of drinking water such as public taps, protected wells, rainwater and water piped into households. The price paid by these families and communities is very high, from wasted income and ill health, to lost time and productivity.
In 16 countries, more than 40% of the population do not have access to even a basic water facility such as a protected well. People have no choice but to collect dirty water from open ponds and rivers, or spend large portions of their income buying water from vendors. (Source – WaterAid Report, "Water: At What Cost? The State of the World's Water 2016")
There are ways that you can help make a difference, starting right now.
ABM supports a number of Water, Sanitation and Hygiene (WASH) projects through our partners in Vanuatu, Kenya, Myanmar and PNG – to find out more about some of these projects and to donate, visit www.abmission.org/projects.
(Please note: This year our WASH program in PNG is fully funded by the Australian Government.)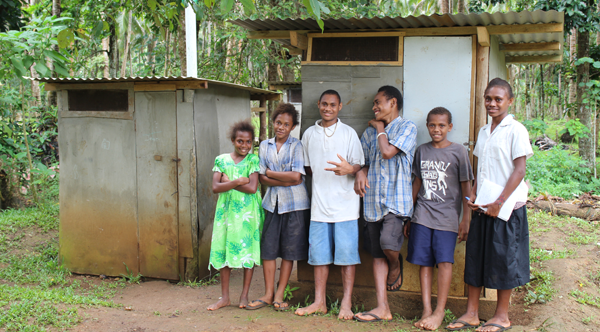 Students with their new VIP toilets

at St Barnabas Primary

in Vanuatu. © Isabel Robinson/ABM, 2014.
Action on these issues is urgent, with water resources becoming increasingly more fragile as populations grow. To read more about the current situation, you can download a full report from WaterAid here.