ABM Archive Website
THIS WEBSITE CONTAINS ARCHIVE MATERIALS FOR HISTORICAL REFERENCE ONLY
For up-to-date information, including our latest appeals, news, and resources, please visit our current website.
2014 National Auxiliary Project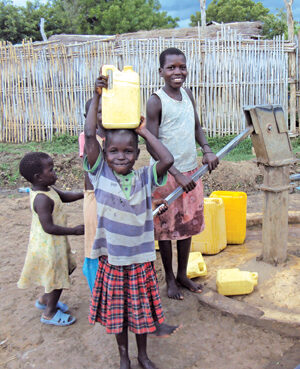 Girls collect water from a well in the Anglican
compound in Torit Dioceses, Eastern Equatoria,
South Sudan. © ABM/Julianne Stewart 2012.
The National Auxiliary Project for 2014 is ABM in South Sudan.
ABM works in partnership with the Episcopal Church of South Sudan & Sudan (ECSS&S), in particular with its development arm SUDRA. All of our projects are located in South Sudan and cover the areas of health, education, disaster risk reduction and emergency relief.
The Auxiliary is focusing on fundraising for the ongoing Basic Health Care Program and the Disaster Risk Reduction Program.
Your support of the National Auxiliary Project in 2014 will allow the work of ABM to pave the way for a better future in South Sudan.
23/10/14 Latest update about the Health Commission Support project in South Sudan
The war has put the Health Commission schedule back a bit in South Sudan as the staff member has been working on medical aspects of the relief efforts of the church, but ABM understands it is now back on track.
Progress reports were received on the two new clinics in July. You can view the update on the country/project page here – Health Commission Support project update.
Our Africa Program Officer Beth Snedden will be going on a monitoring trip at the end of October so further updates can be expected.
HOW TO DONATE
You can make an online donation to this project by selecting Auxiliary 2014 Project: Sudan Health from the full project list.
Alternatively, for donations by cheque/money order (made out to the Anglican Board of Mission – Australia), telephone or email, view contact details here. Please don't forget to include the project name and/or code with your payment details.