ABM Archive Website
THIS WEBSITE CONTAINS ARCHIVE MATERIALS FOR HISTORICAL REFERENCE ONLY
For up-to-date information, including our latest appeals, news, and resources, please visit our current website.
2016 ABM Into the desert (Lent App)
ABM invites you to journey into the Australian desert during Lent 2016 with 40 days of bible readings, reflections, sayings and prayer suggestions.
These Lent resources have a particular focus on Australian landscape, history and writing, Aboriginal reconciliation and the long Christian tradition of desert-shaped theology.
The app is available for iPhone, iPad and Android devices.
Download the free Lent 2016 app in the Apple and Android stores:
https://itunes.apple.com/us/app/id823229503
https://play.google.com/store/apps/details?id=com.abm.lent.app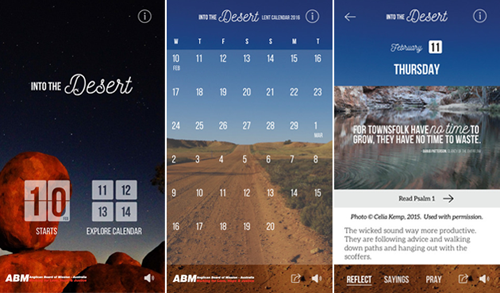 < Back