ABM Archive Website
THIS WEBSITE CONTAINS ARCHIVE MATERIALS FOR HISTORICAL REFERENCE ONLY
For up-to-date information, including our latest appeals, news, and resources, please visit our current website.
2019 Auxiliary Project
Newton Theological College in Papua New Guinea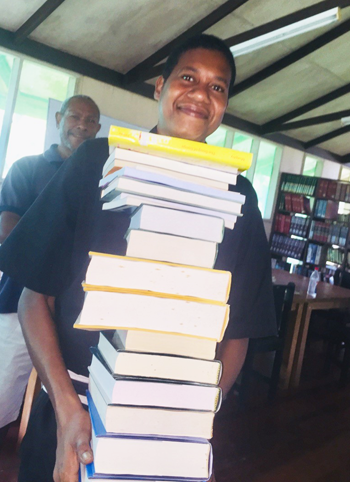 Many books produce a very large smile from Br Josiah.

© Bishop Jeffrey Driver, 2018. Used with permission.
This year we aim to support students and lecturers as they adapt to exciting new courses at the college, and to enrich the courses offered to the wives of the students who live with them during the residential component of their three year Diploma in Theology course.
Newton Theological College, located in Papua New Guinea's beautiful Oro Province, is the only facility in PNG that trains men for priesthood in the Anglican Church. At any one time there are up to 22 students living on the campus, often accompanied by their wives and children. The diploma is largely residential, with time also spent in parishes. The aim of the diploma course is to introduce all students to the basic theological disciplines, but with a growing emphasis on doing theology from a PNG perspective.
ABM is seeking funds for both the ongoing physical needs of the college, as well as continuing curriculum development and further education of staff.
Bishop Jeffery Driver, Acting Principle of Newton College, states that the recent acquisition of a newer more powerful water pump, piping and fitting has done much to improve the water supply and even, in some houses, provide an occasional shower, but five water tanks are still needed.
The library has recently been renewed by a significant consignment of books, and, with changes to the curriculum, the students are using the library much more and the addition of the new books has produced real excitement.
Students and lecturers have been adapting to new courses, as the curriculum is being brought up to date. With more emphasis on a variety of assessment instruments, students are adapting to doing their
 own research. Additional support has been provided to help students gain proficiency at research and essay writing. The hope is that these foundations
will eventually produce a robust contemporary Melanesian theology.
Bishop Driver also points out the importance of the women's program developed for the wives of the Newton ordinands:
"Newton College has always understood that
 in Melanesian culture, local community leadership involves roles and expectations for both men and women. So, alongside the formation program for the male students, there is a complementary program for the women (about two-thirds of the students
 are married).
This program continues to have three main strands; literacy, health and sewing. In 2018 the college was involved in piloting a new literacy program in association with Anglicare and ABM (Australia) the program is called "The Popondetta Literacy Program" [1]. It involves four levels of learning and is orientated towards those who have been disadvantaged in the acquisition of literacy skills. The program seeks to enhance functional literacy and associated life skills."
Ongoing maintenance and repairs continue to be needed to ensure the buildings fulfill their purposes, and finances are always in short supply, both for paying lecturers and supporting the students with basic needs.
ABM urges you to keep Newton College in your prayers. Your generous donation to this project will help provide for the training needs of students and their wives, and for the life needs of both students and lecturers who live at the college.
PG022NT Needs $60,000 in 2019 (non tax-deductible)
Student study materials (writing pads, pens and a bible or text book) cost about $20 per student per year.
Much needed water tanks for use by the college residents costs $2,000 each.
The annual allowance for one lecturer is $5,000 per year.
Establishment and stocking of a chicken run (to address shortage of protein among students) costs $500.
A hand sewing machine costs $100 for each woman in the literacy and life skills program.
HOW TO DONATE
You can make an online donation to this project.

Alternatively, for donations by cheque/money order (made out to the Anglican Board of Mission – Australia), telephone or email, view contact details here. Please don't forget to include the project name and/or code with your payment details.
Gifts to ABM will be applied to the support of project(s) selected. In the unlikely event of the project being oversubscribed or not proceeding to completion, donations will be applied to a similar project to the one(s) selected.
[1]This is the same literacy program that ABM is supporting through Anglicare, PNG.
< Back