ABM Archive Website
THIS WEBSITE CONTAINS ARCHIVE MATERIALS FOR HISTORICAL REFERENCE ONLY
For up-to-date information, including our latest appeals, news, and resources, please visit our current website.
ABM'S GLOBAL REACH ENABLES A GLOBAL FIGHT AGAINST COVID-19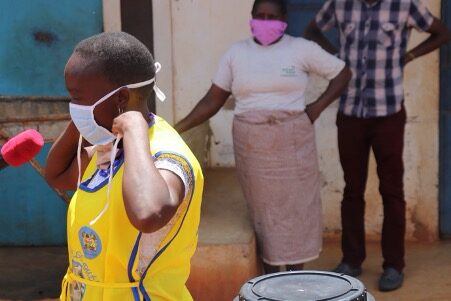 ABM's partner in Kenya masks up to demonstrate COVID-safe hygiene practices.
© Anglican Development Services, Eastern. Used with permission.
Your donations are helping ABM to fight COVID-19 across the globe. Awareness-raising, distribution of protective equipment, alternative income support for workers displaced by COVID-19, food relief and hygiene kits: these are all helping families to stand firm as the winds of COVID-19 swirl around them.
In ABM's fight against COVID-19, we have DFAT-funded projects and we have projects funded directly by the Australian public.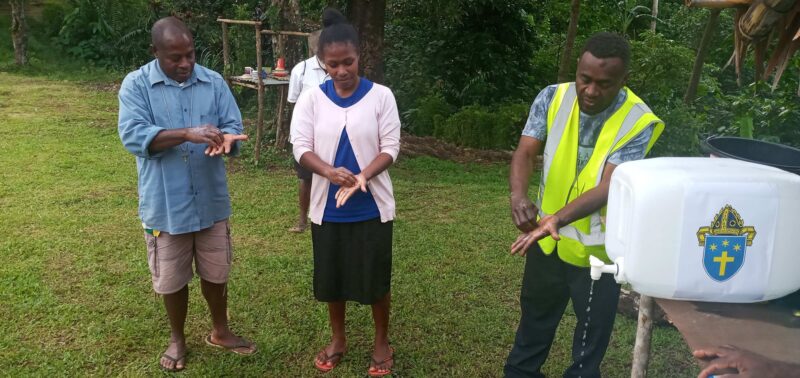 ACOM Vanuatu practising hand-washing on Pentecost Island. © ACOM Vanuatu. Used with permission.
Projects funded directly by ABM's supporters through our COVID-19 appeal
As employment opportunities decline across the global south, some church partners have chosen to address one of people's most immediate needs: food. ABM is supporting the Anglican Church in Sri Lanka to distribute food relief to more than 800 low-income families and food and hygiene kits to at least 60 homeless people.
ABM is supporting the Council of Anglican Provinces of Africa to run a similar relief program for 3,000 low-income households across ten African countries: Burundi, Cameroon, Uganda, South Sudan, Mozambique, the Democratic Republic of Congo, Kenya, Guinea, Madagascar and Zimbabwe. The program will target people living in informal urban settlements, poor rural households, and owners of small businesses impacted by the pandemic. Support for selected families will include cereals, legumes, cooking oil and a sanitation kit. In a separate project, ABM is supporting Kapsabet Diocese in Kenya to provide PPE, hygiene kits and COVID-19 awareness training to 1,000 households.
In Myanmar, ABM is supporting the Church of the Province of Myanmar(CPM) to erect a migrant camp in Padamya for factory workers and others who lost their jobs due to the pandemic. CPM will provide temporary shelters and install a tube well, as well as provide personal protection equipment and a hygiene kit to 30 volunteers who are working at the migrant camp.
ABM also received a small private grant to fight COVID-19 in Papua New Guinea. This will be used to purchase a sewing machine and materials to enable patients at Anglicare's HIV clinic to make at least 300 face masks. Another smaller project is being run through the Anglican Church's Mothers' Union (MU). The project is training MU members in COVID-19, gender-based violence, and other social issues that have been affecting PNG during the pandemic. Members are also sewing at least 500 face masks.
Projects funded by the Australian Government
Australia's Department of Foreign Affairs and Trade (DFAT) was quick to find new funds to fight COVID-19.
In Papua New Guinea, ABM was able to access new Australian Government funding through its membership of two consortia: Church Agencies Network Disaster Operations (CAN DO) and the Papua New Guinea Church Partnership Program (#PNGAusPartnership).
ABM is working with Anglicare PNG and the Anglican Church of PNG to install 39 water tanks (each with a capacity of 3,000-5,000 litres) across Papua New Guinea, distribute more than 80 hand-washing stations and more than 1,000 posters and pamphlets on COVID-19, and conduct COVID-19 awareness-raising across at least 39 communities.
In Vanuatu, ABM also accessed funding through the CAN DO consortium. This funds a COVID-19 response program by the Anglican Church of Melanesia that installs or restores water supply systems across 18 communities. The program also raises COVID-19 awareness across these communities and on one island, Pentecost, it provides training and distributes seeds to help locals improve their food security.
DFAT was also quick to authorise the revision of existing programs to fight COVID-19. Through this adaptability, ABM's adult literacy program in Papua New Guinea was permitted to divert some of its funds to COVID-19 awareness-raising. One of DFAT's global programs (called #ANCP) allowed ABM to re-shape community development projects in Kenya, Zambia, Myanmar, the Philippines and Vanuatu to include COVID-19 awareness-raising.
ABM thanks our generous supporters, our hard-working church partners and the Australian Government for helping us equip communities across the world in the fight against COVID-19.