ABM Archive Website
THIS WEBSITE CONTAINS ARCHIVE MATERIALS FOR HISTORICAL REFERENCE ONLY
For up-to-date information, including our latest appeals, news, and resources, please visit our current website.
Gaza: Al Ahli Hospital one year on from conflict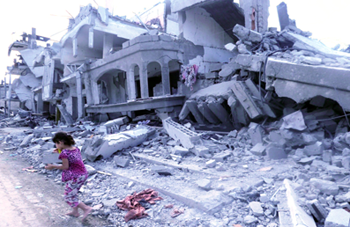 Destruction in Gaza. © Episcopal Diocese of Jerusalem 2015
In July of 2014 a civil conflict erupted between Hamas and the Israeli Defence Force. This is the third conflict Gaza has come under since the Israel-Gaza war in 2008, each one resulting in enormous destruction and devastation to the physical and social climate.
Through its partnership with the Episcopal Diocese of Jerusalem, ABM has continued to develop its relationship with the Al Ahli Arab hospital in Gaza during past and recent Israel-Gaza conflicts, and has supported its relief work for a number of years. Through the Global Rapid Response Fund, ABM was able to respond immediately with emergency funding after the war commenced in 2014.
The funding received allowed the Ahli hospital to sustain their care of patients despite difficult circumstances. During the conflict, the hospital encountered severe shortages in food and medical supplies as well as structural damage to its ventilation and water systems. However, relief funding ensured that valuable resources such as medical equipment, fuel, food, and aid parcels to be provided for, making certain that patients received their required treatment and assistance.
As a result, the Al Ahli hospital was successful in providing emergency medical and psychological support to 638 patients and is one of very few institutions in the area that has been able to continue providing valuable medical assistance to those in need.
Of the total number of patients that were treated through the hospitals services, 167 patients needed to undergo a range of surgical operations. These operations mainly involved abdominal surgery and complicated bone fixations which are necessary in correcting fragmented bones.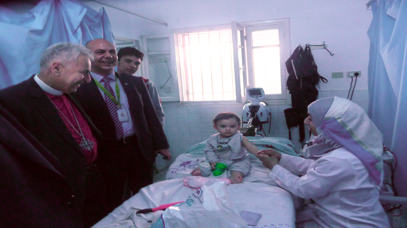 Bishop Suheil Dawani visiting a patient at the hospital.
© Episcopal Diocese of Jerusalem 2015
The hospital has also been successful in running free medical clinic days which are based in the surrounding towns and villages. These clinics serve a dual purpose of not only providing medical treatment but also educating patients about the prevention and early detection of disease, and the importance of proper nutrition and hygiene. Psychological support is also provided to adults and children who were severely traumatised by the war. ABM's emergency relief funding subsidised the cost of 5424 medical examinations as well as 8 education sessions which were attended by 326 women.One year on from the outbreak of the crisis, the Al Ahli hospital continues to receive patients who are in need of follow-up medical treatment. These treatments assist in the post-surgery rehabilitation of patients who have undergone reconstructive surgery, as well as any patient who has suffered injury or disease affecting their musculoskeletal system. Some of these services include physical therapy, further surgery admission, and postoperative care. The ABM fund assisted in providing 354 of these rehabilitation sessions.
Thanks to the generosity of its donors, ABM was able to raise US$62,000 for the Gaza Emergency Appeal and will continue to support the ongoing Child Nutrition Program run by the hospital.
You can also find more information in this edition of the diocese's newsletter – July 2015 Newsletter from the Episcopal Diocese of Jerusalem.
< Back