ABM Archive Website
THIS WEBSITE CONTAINS ARCHIVE MATERIALS FOR HISTORICAL REFERENCE ONLY
For up-to-date information, including our latest appeals, news, and resources, please visit our current website.
ABM APPS
SONGS FROM A STRANGE LAND (AN AUSTRALIAN ADVENT CALENDAR)
A new ABM App from Celia Kemp who wrote Into the Desert and Deep calls to Deep. Starts on 1 December.
Scripture readings, quotes, photographs, poems, cartoons and songs take you through Advent and Incarnation with a particular emphasis on Aboriginal and Torres Strait Islander Christianity, the Australian landscape and Creation theology.
Download link for iPhone and iPad: https://itunes.apple.com/au/app/songs-from-a-strange-land/id1442050436
Download link for Android devices: https://play.google.com/store/apps/details?id=com.abm.strangeland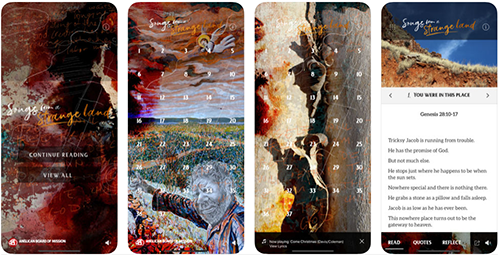 INTO THE DESERT (LENT APP)
ABM invites you to journey into the Australian desert during Lent with 40 days of bible readings, reflections, sayings and prayer suggestions.
These Lent resources have a particular focus on Australian landscape, history and writing, Aboriginal reconciliation and the long Christian tradition of desert-shaped theology.
The app is available for iPhone, iPad and Android devices.
Download the free app in the Apple and Android stores:
https://itunes.apple.com/us/app/id823229503
https://play.google.com/store/apps/details?id=com.abm.lent.app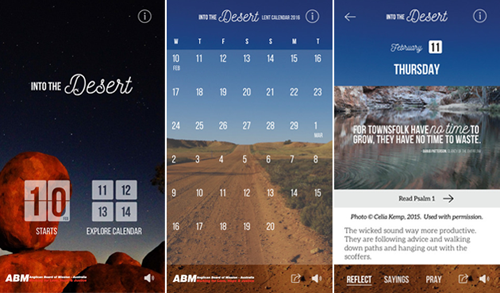 DEEP CALLS TO DEEP (EASTER APP)
Launch into the Deep with a new App from ABM's Reconciliation Coordinator, Celia Kemp. Deep Calls to Deep is a 46 day journey into the mystery of the cross that begins in Holy Week and ends on Ascension Day (but it is suitable for any time of the year). Along the way you'll meet sea monsters, giant fish and ocean tempests. Readings, quotes and reflections for every day make this a feast of theological reflection and fuel for prayer, especially for those who already find themselves in stormy seas.
Download link for iPhone and iPad: https://itunes.apple.com/us/app/deep-calls-to-deep-easter/id1212703153
Download link for Android devices: https://play.google.com/store/apps/details?id=com.abm.easter.deepcallstodeep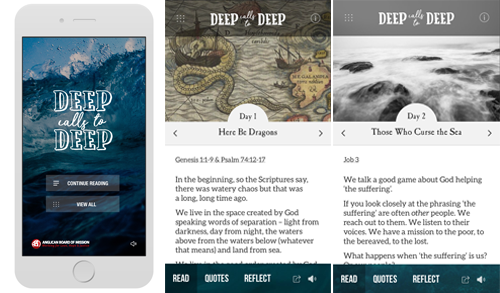 < Back