ABM Archive Website
THIS WEBSITE CONTAINS ARCHIVE MATERIALS FOR HISTORICAL REFERENCE ONLY
For up-to-date information, including our latest appeals, news, and resources, please visit our current website.
An Acknowledgement: The Rev'd Joan Pascoe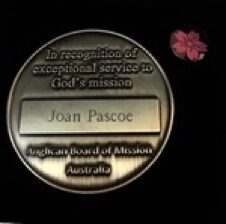 The Rev'd Joan Pascoe died in February 2019.
In mid-2021, the ABM received a generous bequest from her estate, for which our gratitude and thanks to God is expressed.
Joan was a former ABM missionary and was honoured with a Coaldrake Award in the year before she died. We acknowledge and give thanks for her lifelong commitment to the mission that is Christ's and to a life trajectory that continued to track the work of the ABM.
The original ABM Vale for the Rev'd Joan Pascoe can be found here:
https://archive.abmission.org/news.php/460/vale-the-reverend-joan-pascoe
Rev'd Canon Dr Ivan Head
Gifts in Wills ABM