ABM Archive Website
THIS WEBSITE CONTAINS ARCHIVE MATERIALS FOR HISTORICAL REFERENCE ONLY
For up-to-date information, including our latest appeals, news, and resources, please visit our current website.
Measuring the Effectiveness of ABM's Development Partnerships
Some of ABM's partnerships are more than 150 years old. The newest are 10 years old, and most are somewhere in between. All work at the grassroots, engaging with their local communities and institutions to change lives for the better.
ABM's approach to its development partnerships has long been to work largely from Australia, providing support to projects identified by partners, projects which play both to the partner strengths and to ABM's own capacity.
ABM also aims to provide some support to partners as they work to strengthen and improve their organisational capabilities. This includes areas such as climate change advocacy, financial management, community development approaches, organisational sustainability and strategic planning.
To examine the effectiveness of ABM's seven international development partnerships, ABM prepares a Partnership Effectiveness Report every three years. Our most recent report covered the period July 2016 to December 2019.
The report drew on a number of sources: ABM's online 2019 Partner Relationship Survey (completed by 18 individuals from all seven partners), as well as ABM staff notes and observations from visits to partners, learning from partners' visits to Australia, partner reporting, frequent email and phone communication between ABM and its partners, and an annual partnership reflection meeting.
The Partnership Effectiveness Report examined four aspects of partnership:
1. Shared goals and agreed direction
2. Honesty and trust
3. Partner capacity building
4. Two-way learning and influence (between ABM and its partners)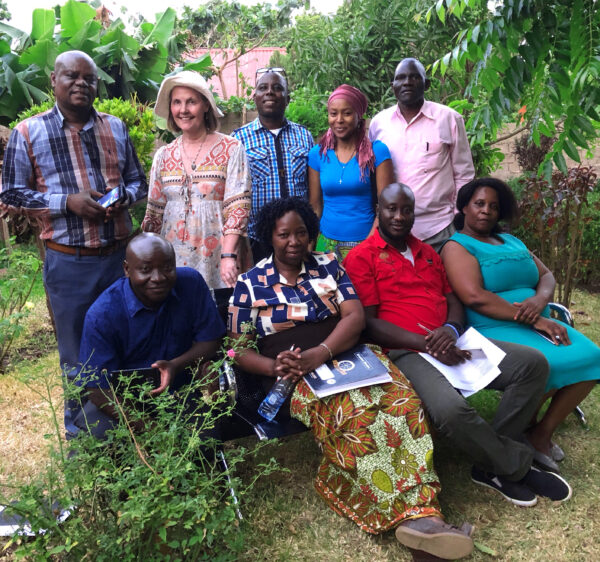 ABM's Julianne Stewart with Staff of Zambia Anglican Council during a Capacity Development Reflection led by ABM
© Julianne Stewart, ABM
What ABM learned from the process
It was gratifying to learn that ABM and its partners share the same values, and that there was a high level of mutual trust and respect – elements that are essential for effective partnerships.
It was also good to learn more from our partners about what they understood by the term "localisation". This knowledge will help ABM further improve its processes to strengthen localisation in its overseas program work.
In terms of improving our relations its partners, ABM should communicate more extensively with partners on sensitive compliance-related topics such as the need for effective policies and procedures on counter-terrorism, child protection and sexual misconduct. Improved communication on these topics could give partners more opportunity to share their thoughts and feelings, would enable ABM to better explain why Australian aid agencies require such checks, and explore how such checks can be handled sensitively.
Whilst it is good to know that partners greatly appreciate ABM's support of their capacity development, especially in areas such as Assets-based Community Development (ABCD) and financial management, ABM and its partners should work towards improved tracking and follow-up of the outcomes of capacity strengthening activities. Ideas to improve tracking include improving ABM's project proposal and reporting templates for partners, checking that partners provide details about planned and actual follow-up when they complete ABM's partner capacity strengthening proposal and report templates, and ABM more regularly updating its own Capacity Building Matrix to track follow up on past capacity building activities.
ABM should encourage all partners to develop their own capacity building strategies as part of broader strategic planning.
In order to grow in partnership, ABM should continue to reflect at least annually on what it has learned from its partners, and should communicate with partners about what ABM has learned.
ABM should work to improve the wording of its Partner Relationship Survey to reduce the likelihood of unclear responses, and should consider conducting more surveys using face-to-face methods, rather than just through the electronic survey.
ABM is grateful to all our development partners, who enable us to achieve amazing results in partnership with communities around the world.
ABM extends its grateful thanks to its development partners:
Anglican Church of Melanesia in the Solomon Islands and Vanuatu
Anglicare Papua New Guinea and Anglican Church of Papua New Guinea
Church of the Province of Myanmar
Episcopal Community Action for Renewal and Empowerment (E-CARE)
Visayas and Mindanao Regional Office for Development (of the Philippines Independent Church)
(IFI-VIMROD)
Anglican Development Services, Eastern (in Kenya)
Zambia Anglican Council Outreach Program