ABM Archive Website
THIS WEBSITE CONTAINS ARCHIVE MATERIALS FOR HISTORICAL REFERENCE ONLY
For up-to-date information, including our latest appeals, news, and resources, please visit our current website.
Update: Vanuatu Cyclone Emergency Appeal
8th June 2017
The relief supplies identified during the initial damage assessment have now been delivered to the affected areas. On 20th May, the Anglican Church of Melanesia (ACOM) handed over the relief donations to Philip Meto of the National Disaster Management Office on Loh, Torres, in the Torba Province of Vanuatu.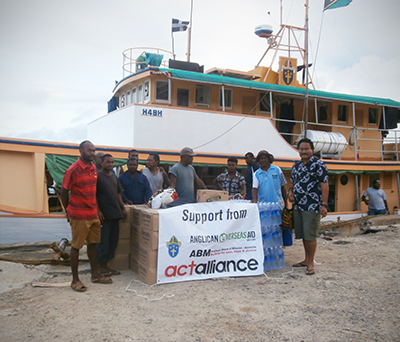 Disaster relief supplies getting packed onto the ACOM Southern Cross
vessel in Port Vila.

© ACOM, 2017. Used with permission.
The supplies included:
1400 kgs of carbohydrate and protein foods
+ 1 ctn Teriyaki chicken donated by a local supplier
Donations from Port Vila Anglican parishioners (including clothing and kitchen utensils)
80 cartons of distilled water (loaded in Santo)
Donations from Rucinta Vora (Coordinator of our Community Development projects in Vanuatu) and her family
On the way to delivering the relief items, the ACOM ship visited the islands of Toga, Tegua and Hiu before landing in Loh. It was through this journey that the full destructive force of Tropical Cyclone Donna was revealed. One team member commented;
"The whole of the Torres group [of islands] was brown in colour, the gardens are badly damaged, and people have been traumatised and are in despair. They need counselling, most especially people on Toga, Tegua and Hiu Islands."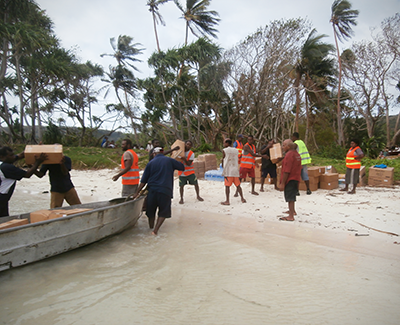 Unloading the supplies at Loh.

© ACOM, 2017. Used with permission.
There were several church buildings destroyed, including St. James chapel on Loh, and All Saints chapel on Vanua Lava, further south in the Banks group of islands. Communities now in the process of rebuilding their churches, and repairing some damages to school buildings.
The main concern still remains to be food and water, however.
The National Disaster Management Office have deployed a Detailed Damage Assessment team to Torres, to identify longer term needs and recovery activities. ACOM will continue to work with this government department to ensure those in affected communities receive the help they need into the future.
Formerly handing supplies frm Bishop Worek to NDMO's Coordinator
Philip Meto at Loh.

© ACOM, 2017. Used with permission.