ABM Archive Website
THIS WEBSITE CONTAINS ARCHIVE MATERIALS FOR HISTORICAL REFERENCE ONLY
For up-to-date information, including our latest appeals, news, and resources, please visit our current website.
Diocese of Egypt: Good Friday Gift Update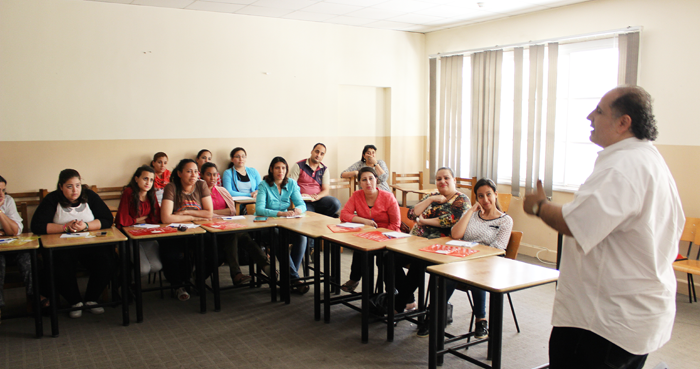 EpiscoCare staff in a training workshop. © Episcopal Diocese of Egypt, used with permission.

THE GIFT THAT KEEPS GIVING
ABM is pleased to share with our supporters a report we recently received from EpiscoCare, one of our partners in the Anglican Diocese of Egypt, with North Africa and the Horn of Africa. As the development arm of the Diocese, EpiscoCare exists to assist the poor and marginalized communities of Egypt.
ABM has partnered with the Diocese of Egypt through the Good Friday Gift for 100 years now. While EpiscoCare was only formally established in 2003, it was founded on and continues the Diocese's long standing commitment to improving the lives of all members of the communities where they serve. EpiscoCare Health Program has a particular focus on providing quality health care and preventative public health measures to the most vulnerable in the community.
EpiscoCare Health Program staff are grateful for the funds ABM raises through the Good Friday Gift each year, which contribute to a range of public health care programs delivered by their health centres aimed at vulnerable children and adults from the poor communities they serve. Your support has enabled them to improve the health of children and their families through treating existing diseases and educating their parents about healthy home environments and nutrition. The next generation of children have also benefitted from pregnancy support programs to ensure healthy and safe pregnancies. Longer term sustainability has also been addressed by ensuring staff receive ongoing training in clinical and public health matters.
To read more about the work made possible by your generosity to the Good Friday Gift, please download their recent report. If you are interested in learning more about EpiscoCare please visit their website.
ABM will continue to support the various ministries of the Diocese of Egypt through the Good Friday Gift.
< Back