ABM Archive Website
THIS WEBSITE CONTAINS ARCHIVE MATERIALS FOR HISTORICAL REFERENCE ONLY
For up-to-date information, including our latest appeals, news, and resources, please visit our current website.
Kenya: Youth & Sunday School Empowerment into Worship Program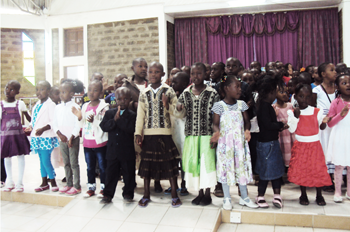 This project supports leaders of Sunday School and
young people. © Julianne Stewart/ABM, 2014.
This is part of the Church to Church Program: Learn more about ABM's Programs here.
This new project will offer leadership training to youth leaders and Sunday School teachers in Kenya.
Previously leadership training has been targeting the church leaders in the parishes and the youth and Sunday school children have missed out. This project will educate young people and Sunday school pupils on the person of Jesus Christ such that they grow knowing who Christ is and His love for humankind. It will also challenge their thinking in terms of how they can live in harmony with God's creation as stewards, not exploiters of the natural environment (Proverbs 22:6).
In Kenya, there are many young people who are influenced by the radicalisation movement due to the insurgence of terror groups and the promise of good life across the border in Somalia. It is hoped this project will encourage young people to embrace the Gospel of Jesus Christ as a way of dealing with this challenge.
This will be done through developing theologically sensitive materials for the Sunday School teachers and for the youth chairpersons. Youth conferences will be organised on an annual basis where speakers would be invited to speak on particular themes of relevance such as relationships and sexuality, drugs and substance abuse, climate change and global warming, radicalisation and the importance of embracing one's faith.
During the youth conferences and the training of the Sunday School and youth leaders, the aspect of environmental conservation and preservation will be covered. This is something the church in Kenya wants to make prominent and will encourage the youths and Sunday School children to participate in environmental conservation issues, have tree planting and clean up days.
The dioceses involved will also select "environmental champions" based on best performance in terms of environmental conservation and protection. These people would be honoured by the Bishops in special events to commemorate the good works done in preserving our planet.
KE006YM needs $24,000 in 2016 (non tax-deductible)
HOW TO DONATE
You can make an online donation to this project by selecting Kenya: Youth & Sunday School Empowerment from the full project list.
Alternatively, for donations by cheque/money order (made out to the Anglican Board of Mission – Australia), telephone or email, view contact details here. Please don't forget to include the project name and/or code with your payment details.
Gifts to ABM will be applied to the support of project(s) selected. In the unlikely event of the project being oversubscribed or not proceeding to completion, donations will be applied to a similar project to the one(s) selected.
PROJECT UPDATE
October 2016 – The Anglican Church of Kenya (ACK) have recently held a training workshop with their Youth and Sunday school leaders, focusing on environmental conservation. Afterwards several highly successful environmental conservation activities were organized amongst local schools administered by the Anglican Church of Kenya. Read more.
August 2016 – The Anglican Church of Kenya (ACK) have recently organised two highly successful training workshops in the Diocese of Makueni and the Diocese of Machakos. Read more.
< Back