ABM Archive Website
THIS WEBSITE CONTAINS ARCHIVE MATERIALS FOR HISTORICAL REFERENCE ONLY
For up-to-date information, including our latest appeals, news, and resources, please visit our current website.
Kenya: Disability Inclusion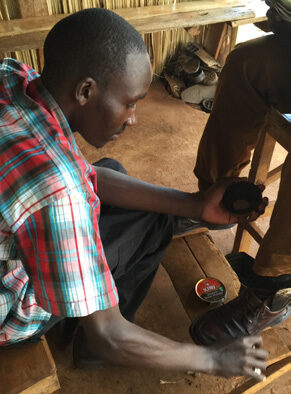 A successful recipient of this project in his shoe
shine and repair business. © Diocese of Eldoret,
used with permission.

This is part of the Community Development Program: Learn more about ABM's Programs here
The Community Based Rehabilitation Centre in the Diocese of Eldoret undertakes extensive work with people living with a disability. Much of this work focuses on raising awareness of inclusive practice, increasing opportunities for both children and adults.
The project aims to develop small sustainable businesses, providing income and independence for individuals with a disability. The project will include, but not be limited to, the following strategies:
• Provide training for a coordinator
• Develop a no interest loan system
• Increase awareness of inclusive practice
• Source local community business opportunities that are feasible, viable and sustainable
• Find suitable business mentors and match people with a disability with appropriate mentors
• Mentor working alongside the people with a disability to assist in:
• Developing business plans and training on simple financial management
• Ongoing monitoring of business plans
• Ongoing mentoring of the individual with a disability
• Inclusion training for the Lay, Ordained and Mentors
The proposal has its genesis in the missional partnership between the Anglican Diocese of Eldoret, Kenya and the Diocese of Perth, Australia. This partnership has been developing since its inception in 2011.
This project has been trialled in 2015/2016 with one young man developing a shoe shine and repair business. Your support can offer more people with a disability the opportunity to live meaningful, inclusive lives in Kenya.
KE011DB needs $10,000 in 2017 (non tax-deductible)
HOW TO DONATE
You can make an online donation to this project.

Alternatively, for donations by cheque/money order (made out to the Anglican Board of Mission – Australia), telephone or email, view contact details here. Please don't forget to include the project name and/or code with your payment details.
Gifts to ABM will be applied to the support of project(s) selected. In the unlikely event of the project being oversubscribed or not proceeding to completion, donations will be applied to a similar project to the one(s) selected.
< Back