ABM Archive Website
THIS WEBSITE CONTAINS ARCHIVE MATERIALS FOR HISTORICAL REFERENCE ONLY
For up-to-date information, including our latest appeals, news, and resources, please visit our current website.
Kenya: Church to Church Project Update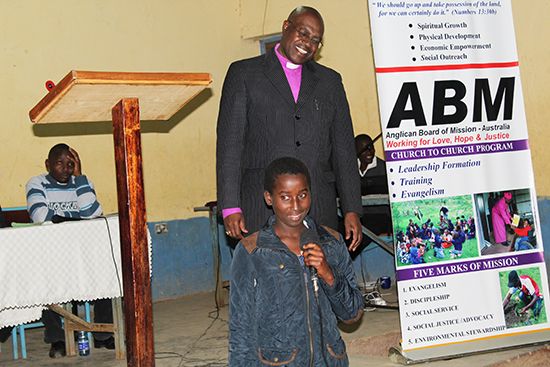 Bishop Mutungi looks on during a Youth and Sunday School Empowerment Project activity.
© Anglican Church of Kenya, Diocese of Machakos.

March 2019
"A mission that speaks to the mind and the heart…"
For the past five years, ABM, through the generosity of its supporters, funded two dioceses of the Anglican Church of Kenya. The aim was to strengthen lay and clergy leadership to provide vital Christian outreach to the local communities, and thus to strengthen the church and to help build the Kingdom of God. [1]
ABM recently visited the dioceses of Makueni and Machakos in Eastern Kenya, and spoke to the Rt Rev'd Joseph Mutungi, Bishop of Machakos:
"The thing I really like about the ABM Church to Church mission is that it speaks both to the mind and the heart. Since we have been partnering together with ABM, it has been great to get people to learn. In doing so, we have built the capacity of the Church. As a result there is now strong fellowship in the church, and many more activities going on."
Bishop Mutungi spoke about some of these activities: "In 2018 you sent us funds for 'Revitalising Men's Ministry to the Community.' All have benefited, but the men have benefited greatly. In one church, there were only two men, and now those two have brought 10 more. And when you bring one man in Africa, you bring the whole family."
Engaging with youth has been another challenge that ABM's support has helped to address. The aim of the Youth and Sunday School project was both to strengthen the young people's knowledge and understanding of Christ, and to raise their awareness of our stewardship of the environment.
"This age group is not an easy one to get to come to church", noted the Bishop. "But in October, 2018 we launched Green Anglicans. 400 young people came, to parishes right across the diocese. Each of them planted at least one tree. 500 trees were planted in Machakos town alone."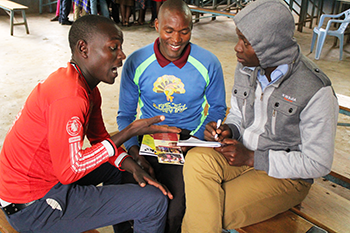 Young men in the Youth & Sunday School Empowerment Program.
In fact, over 1000 children and young people participated in the program overall. Many parishes have established environment clubs, creating tree nurseries which also generate an income for the clubs. Three of the youths have presented themselves for theological training to become a priest.
Bishop Mutungi continued: "The training funded by ABM has also encouraged priests to work for their living, rather than sitting in their vicarages waiting for people to come to them. They now get involved in their communities. Many have joined Savings and Loans groups. They also know how to apply for Government grants for community purposes.
"The church is getting very involved in the community, and the church is growing. 20 temporary churches have been made into permanent buildings. This in turn attracts people to want to come, and there has been an increase in giving to the church.
"We are now advancing the Kingdom of God."
ABM would like to thank all those who supported this project at any time over the past five years. Your donations have borne rich fruit.
[1] This update refers to completed projects: KE003TR Leadership and Management Training Project (three phases: 2012/13, 2013/14, 2014/15); KE006YM Youth and Sunday School Empowerment into Worship Project (two phases: 2015/16, 2016/17); and Revitalising Men's Ministry to the Community (one phase: 2017/18).
< Back