ABM Archive Website
THIS WEBSITE CONTAINS ARCHIVE MATERIALS FOR HISTORICAL REFERENCE ONLY
For up-to-date information, including our latest appeals, news, and resources, please visit our current website.
Kenya: Sustainable Livelihoods Program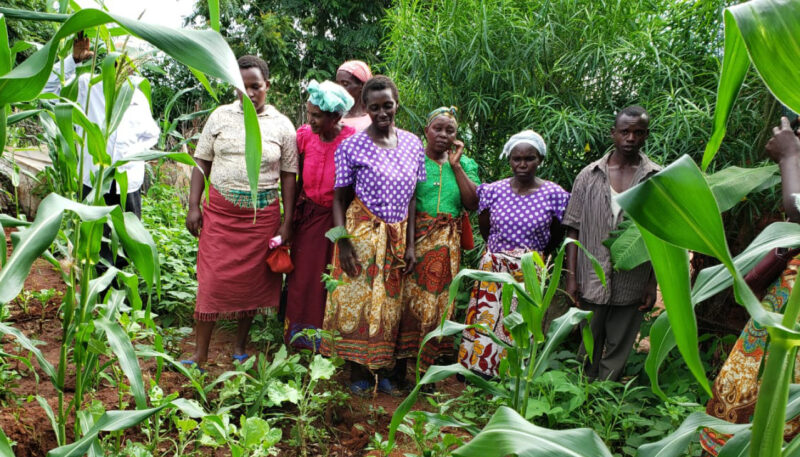 © ADSE. Used with permission.
Help people farm sustainably in Kenya
Mwikali and her fellow farmers have lived for generations in the semi-arid region of Eastern Kenya. One of the most pressing barriers to growing food successfully is the increasingly unreliable rainfall. This also contributes to increased desertification. Here you can read about how through your support Mwikali was shown that a simple technique like a Zai pit* can, by concentrating water around the plant, enable a good harvest and prevent further desertification of the land.
Several years before ABM's Kenyan partner, Anglican Development Services Eastern (ADSE), came to her community, Mwikali was instrumental in forming a "self-help group" for women in her village, called Kyeni Kwa Aka Kyua (Light for the Women of Kyua). The group started to engage in a form of group savings called "table banking". Then they began to help each other to do major farm work like digging terraces and preparing their farms for the rains.
When ADSE arrived to assist the community, Mwikali's group joined up with the newly-established Community-based Organisation.
"First, we learned a new concept of saving – Village Savings and Loans (VSL) – which is easier and more organized than the normal table banking. Second, we learned about different agricultural technologies. The one which has helped us most is the use of Zai pits for soil and water conservation, bearing in mind that our area is usually very dry during most months of the year. We were taught that we can use the Zai pits to plant vegetables and so we have dug the pits near the group farm pond. This allows us to water our vegetables just once every week," says Mwikali.
Each woman in the group was also able to dig her own pits next to her kitchen, fence the area off and plant vegetables for her family.
Now no woman in the group needs to go to the market to buy vegetables.
Because of the pits, Mwikali was able to feed her family healthy vegetables during the dry season. This meant she also didn't need to sell her chickens before they matured, in order to buy vegetables for the family.
"ADSE has enabled us women to be able to be productive in our families and we are very happy," says Mwikali.
To help more women like Mwikali to farm sustainably, conserving precious soil and water, please consider donating to this project.
» In 2021 the Sustainable Livelihoods Program needs $39,300 (tax-deductible)
*30cm square and deep Zai pits were traditionally used in the Sahel region of Africa and are dug almost a metre apart, before the rainy season, to collect water and allow composting. Once the rains come, the farmer plants in each Zai pit.
PROJECT UPDATES
November 2021 – Read how this project is transforming the lives of women and their families through group-formation, savings groups and training. Read more.
April 2021 – Read the second of two interviews with local Kenyan community leaders supported by ABM. Benjamin Malawa talks about how his community is transforming itself through working together and accessing the right information. Read more.
March 2021 – Read an interview with Kenyan community leader, Josephine Mutava, to find out how ABM and its partners work at grassroots community levels to achieve long term positive changes. Read more

HOW TO DONATE

This project receives partial funding
from the Australian Government.
< Back