ABM Archive Website
THIS WEBSITE CONTAINS ARCHIVE MATERIALS FOR HISTORICAL REFERENCE ONLY
For up-to-date information, including our latest appeals, news, and resources, please visit our current website.
Revitalising Men's Ministry to the Community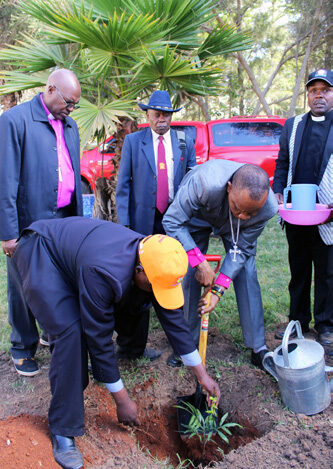 Taken at the Men's Mentoring Forum, the guest-facilitator the

Bishop of Nakuru Diocese plants a tree as the Bishop of
Machakos looks on. Help give growth to this project.
© Diocese of Machakos Kenya, 2017. Used with permission.
This is part of the Church to Church Program: Learn more about ABM's Programs here.
Diocesan data in the Dioceses of Machakos and Makueni indicate there are about 5,000 men who
worship every Sunday. However, only 700 of them are enrolled as Kenya Anglican Men's Association (KAMA) or Men's Ministry.
The main goal of the project is to encourage the men in the Church to get involved in the Diocesan activities and specifically to take up the godly leadership role in the Church and family as the priest of the home.
The first phase targets a thousand men through training and events-driven outreach. In Kenya men's ministry tends to be events-driven as many men prefer activities but previously, there has been no events program for the men to
engage in which has led to many men having a reduced role in spiritual matters.
Through this new program, men will walk through life together learning from real situations and people. They will transform other men because of the exemplary life that they live. They will be taught to live by the Scripture – and make it relevant through their words and deeds. In mentoring small groups, men will memorise key Scripture verses together, apply them to their lives and talk about them regularly.
John 10:10 "The thief comes only to steal and kill and destroy. I came that they may have life, and have it abundantly." (NRSV)
The beneficiaries will be helped to live a purpose-driven life. These programs will give purpose, and offer realisation that fulfilment often comes through caring and giving to others.
In a practical sense, seminars and conferences will be organised for the men. Donations will contribute to KAMA Conferences, monthly Men's Prayer Breakfast, the establishment of an ongoing men's and boys' mentorship program and participation in sharing of food to the less fortunate in society. The men will also be taught about the importance of taking care of our planet through environmental conservation activities including tree planting and clean ups.
Your support will allow the Dioceses of Machakos and Makueni to re-energize the men in the Church to take up their leadership role and develop Christlike character in their families and communities.
KE006YM needs $20,000 in 2018 (non tax-deductible)
HOW TO DONATE
You can make an online donation to this project.

Alternatively, for donations by cheque/money order (made out to the Anglican Board of Mission – Australia), telephone or email, view contact details here. Please don't forget to include the project name and/or code with your payment details.
Gifts to ABM will be applied to the support of project(s) selected. In the unlikely event of the project being oversubscribed or not proceeding to completion, donations will be applied to a similar project to the one(s) selected.
< Back