ABM Archive Website
THIS WEBSITE CONTAINS ARCHIVE MATERIALS FOR HISTORICAL REFERENCE ONLY
For up-to-date information, including our latest appeals, news, and resources, please visit our current website.
Myanmar: Sustainable Agriculture in Hpa-an Villages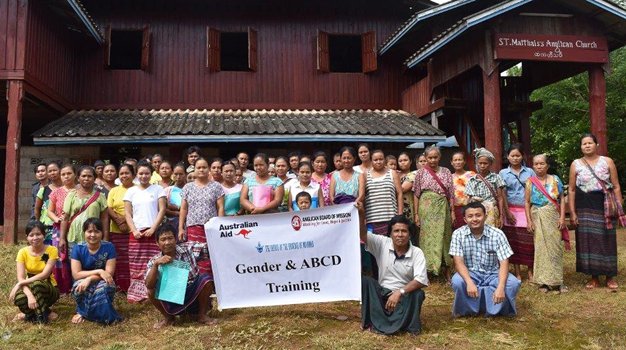 Participants at a Gender and ABCD training workshop. © CPM, 2017, used with permission.
This year we aim to support 155 families suffering from the effects of internal displacement to build healthy and self-reliant communities.
ABM is working with the Anglican Diocese of Hpa-an in two local villages in Kayin State. The project provides agricultural and farming skills to 155 families who have been "internally displaced" (living as refugees within their own country). Their lives have been completely torn apart by earlier ethnic conflicts and they are now seeking a new start. The project will also assist these families to strengthen their resilience and help them build stronger communities.
Although farming is their main source of income, these families do not own land, and also lack strong knowledge about agriculture. An asset-based community development (ABCD) approach is being used to introduce development initiatives. ABCD focuses on individual and community resources which can be maximised and applied to community issues and challenges to bring about positive change.
The project's longer term goal is to help people to lift themselves out of poverty and improve their quality of life. With increased incomes from sustainable farming, farmers are more assured of meeting their basic needs, such as sending their children to school, paying health care costs, and providing themselves with reasonable shelter.
2018 was the first year of this project and already the project has helped the community to organise themselves into Village Development Committees. Training has been provided in awareness of children's rights, and awareness of how development projects can be used to empower women.
Representatives of one community travelled to another village to learn about rice mills there. They have already purchased one rice mill for their own village, which will be used for the first time as the families harvest their next rice crop. The other village went to Mandalay to learn about sesame seed presses. They have purchased one, and will soon start training their fellow villagers to make sesame oil. These were initiatives that the two communities came up with themselves following the ABCD process.
In 2019, training will focus on agricultural techniques and caring for the surrounding forests. Once trained, it is expected that the families will start to implement their newly found skills which will lead to increased farm incomes and greater awareness of land and forest care. Environmental conservation initiatives, such as tree planting, organic composting, or village garbage collection will be implemented in each village.
Your support of this project will make a lasting difference to almost 1000 people who are trying to rebuild their lives following the devastation of conflict.
MM001 needs $21,644 in 2019 (tax-deductible)
Training, which typically takes place in the church building, costs $60 per person per day for 20 people.
A learning visit to another village for members of the Village Development Committee costs $55 per person.
A rice mill costs $1,058 to purchase.
| | |
| --- | --- |
| | This project receives partial funding from the Australian Government. |
HOW TO DONATE
You can make an online donation to this project.

Alternatively, for donations by cheque/money order (made out to the Anglican Board of Mission – Australia), telephone or email, view contact details here. Please don't forget to include the project name and/or code with your payment details.
Gifts to ABM will be applied to the support of project(s) selected. In the unlikely event of the project being oversubscribed or not proceeding to completion, donations will be applied to a similar project to the one(s) selected.
< Back