ABM Archive Website
THIS WEBSITE CONTAINS ARCHIVE MATERIALS FOR HISTORICAL REFERENCE ONLY
For up-to-date information, including our latest appeals, news, and resources, please visit our current website.
2007 Pew Reflections – First Quarter (Jan – March)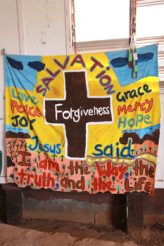 Welcome to 2007 and ABM's 'Reflections for Weekly Bulletins', for another year. We look forward to bringing you a year of helpful resources as you continue to read and reflect on the scriptures each week.
The Rev Dr Ron Dowling is Rector of the Parish of St Mary Magdalene in the heart of the City of Adelaide. He is also a member of the General Synod Liturgy Commission. One of his other great claims to fame – at least as far as ABM is concerned – is his very generous contribution to the production of the ever popular ABM Calendar. Ron has for many years now been a part of the editorial team for the calendar and provided us with all of the information on the liturgical dates and colours, saints' days and festivals. We would certainly be lost without his enormous contribution to this useful resource. Consequently with this vast knowledge of the church and scripture I am delighted that he agreed to write the Reflections for this Quarter and I am sure you will be too.
Ron challenges us each week to recognise that we have the strength and the ability to answer God's call to us to be people of mission through our experience of the life of Jesus and the relationship he has, and we can have, with God.
This call to ministry (which of course will be different for everyone), needs to be based on love, truth, and obedience, and can in turn encourage us to see that to live it fully and abundantly as Jesus does will not always be easy but in the end will hopefully lead to a life lived out in great joy and gladness.
From all of us at ABM we wish you a challenging and courageous journey through Lent and a blessed and holy Easter.
Yours in Mission
Debra Saffrey-Collins
Communications Program Co-ordinator
Download document

91.5 KB