ABM Archive Website
THIS WEBSITE CONTAINS ARCHIVE MATERIALS FOR HISTORICAL REFERENCE ONLY
For up-to-date information, including our latest appeals, news, and resources, please visit our current website.
2008 Pew Reflections – Third Quarter (July – Sept)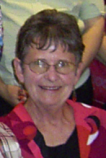 This quarters reflections have been written by the Reverend Sue Emeleus. Sue trained as a science teacher and taught in Sydney, then came some training with CMS prior to teaching in Tanzania. In her years overseas she continued theological study (Distance Ed was possible through the Australian College of Theology) begun at Moore and Ridley Colleges. Sue met George, an Irish physics lecturer, in Tanzania. After their marriage they both taught in the University of Dar-es-Salaam before moving to the University of Papua New Guinea, Port Moresby, where they worked for ten years. So began Sue's association with ABM missionaries. Their four children (all now married) were born while they were in PNG.
Returning to Australia, Sue taught science and Christian Studies for thirteen years at Tara Anglican School. When her pastoral responsibilities increased, she trained as a counsellor, and finally left teaching to train and work for five years as the Anglican Chaplain at the Royal Alexandra Hospital for Children (now also known as the Children's Hospital at Westmead). Ordained Deacon in 1996, Sue later worked as Assistant Minister at St Luke's Concord, and part-time as National Secretary to the Auxiliary of ABM. Currently she works part time as Assistant Minister at St George's, Paddington in Sydney; and she is enrolled in post-graduate studies through the theological faculty of Charles Sturt University.
I am sure you will find Sue's Reflections challenging, thought provoking and empowering.
Yours in God's Mission
Debra Saffrey-Collins
Communications Program Co- ordinator
Download document

626 KB