ABM Archive Website
THIS WEBSITE CONTAINS ARCHIVE MATERIALS FOR HISTORICAL REFERENCE ONLY
For up-to-date information, including our latest appeals, news, and resources, please visit our current website.
2009 Pew Reflections – Second Quarter (April – June)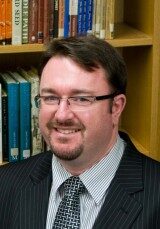 Welcome to the Second Quarter of Weekly Pew Reflections for 2009.
They have been written by Robert McLean, our Church to Church Manager who commenced with ABM in October last year.
Robert's commitment to the Church began as a choirboy at Christ Church Cathedral in Christchurch, New Zealand, where he learnt of John Coleridge Patteson. The first bishop of Melanesia, Patteson was martyred in 1871 and this story continues to inspire him. His religious education continued after high school, which he spent at Christs' College in Christchurch. He went onto university to acquire an undergraduate degree in history and a post-graduate degree in Theology from the University of Otago.
Robert has often described himself as a professional Anglican who is motivated to help the Church to become stronger, more vibrant and focused on growth. Since joining ABM, his most significant moment was listening to a first hand account of the plight of the people of Zimbabwe from the Bishop of Harare, Dr Sebastian Bakare. Whether it is through his own contact with Anglicans in Australia or in our partner Churches overseas, Robert knows that he is working with members of his own family.
Having recently returned from Papua New Guinea, Robert has stories to tell of our relationship with the Anglican Church of PNG and will be visiting a number of Dioceses over the next twelve months to share his thoughts and experiences. As the foundation of our work, our Partner churches deserve our strong support. You may want to consider this as you read these reflections over the next few months and ask how you can support the Anglican Church in other countries.
God Bless
Melany Markham
Communications Co-ordinator
Download document

355 KB