ABM Archive Website
THIS WEBSITE CONTAINS ARCHIVE MATERIALS FOR HISTORICAL REFERENCE ONLY
For up-to-date information, including our latest appeals, news, and resources, please visit our current website.
2010 Pew Reflections – Third Quarter (July – Sept)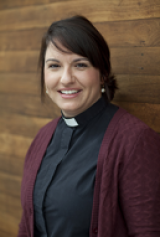 Welcome to the third edition of Pew Reflections for 2010. We hope it will provide you with interesting material to use as a starting point as you study the Scriptures and reflect on them in prayer.
Jasmine Dron is currently the Assistant priest at the Anglican Cathedral parish of Grafton. She completed her Bachelor of Theology at St Mark's National Theological Centre in 2007. Jasmine is passionate about social justice and faith and their inextricable link.
In 2008 she visited Israel Palestine and since that time has sat on the Ecumenical Working Group for Israel Palestine, based in Canberra. She is also the Australian representative on the World Council of Churches' World Week for Peace working group.
Since 2009 she has been a member of the ABM's Church to Church committee.
May joyful faith be yours as we continue the journey through the Sundays after Pentecost.
Melany Markham
Communications Manager
Download document

359 KB