ABM Archive Website
THIS WEBSITE CONTAINS ARCHIVE MATERIALS FOR HISTORICAL REFERENCE ONLY
For up-to-date information, including our latest appeals, news, and resources, please visit our current website.
2012 Lent Resources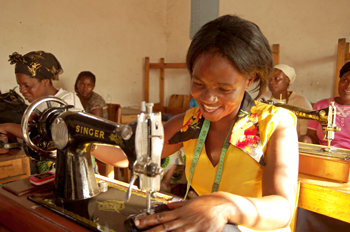 Transformational Mission
ABM would like to thank everyone who contributed feedback and ideas in the 2011 Lenten resource survey. As a result of the feedback received, ABM have focussed on producing high quality partner stories on video, as well as pew bulletin inserts, sermon notes and a poster. As always, we are very keen to listen to your feedback and ideas about what would be most useful to include in these Mission Resources.
Resources for Lent 2012
These resources are on the Lent CD-ROM. They can be downloaded in PDF format.
These resources will be mailed to parishes and schools in early February. Please contact ABM to request extra copies.
CD-ROM/DVD Mission Resource Kit
Mission is Transformation poster
Anglican Communion study booklet 'And it was good…'
ABM Lenten envelopes
DVD Stories
A DVD containing the five stories below will be distributed to parishes and schools with the ABM Lent Pack.
Of One Heart and Mind – Real actions being taken by the Anglican Church in Kenya to achieve the Millennium Development Goals.
Gender and Governance – An inspiring story about women's empowerment and grass-roots governance in Zambia
Melanesian Calling – Leadership and theological formation at Newton Theological College in Papua New Guinea.
Our Daily Bread – Find out how agricultural innovations are improving life for rural communities in the Phillipines.
A Person Fully Alive – An exciting overview of ABM and our work with our Partners.
Other Resources
'And it was good…' is a five session Lenten Study developed by the Bible in the Life of the Church project. The study is a well designed exploration of the Fifth Mark of Mission. ABM are encouraging Australians to join with Anglicans around the world in study this Lent. www.anglicancommunion.org/ministry/theological/bible/lent.cfm
Anglicans Online – An extensive list of Lent resources from Anglicans Online
We want to hear from you
ABM appreciates your feedback please send your comments to Education Missioner, Brad Chapman bac@abm.asn.au
Download document
4 KB