ABM Archive Website
THIS WEBSITE CONTAINS ARCHIVE MATERIALS FOR HISTORICAL REFERENCE ONLY
For up-to-date information, including our latest appeals, news, and resources, please visit our current website.
2013 Pew Reflections – Fourth Quarter (Oct – Dec)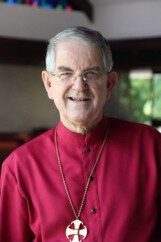 Bishop Arthur Jones has had an interesting career that has seen him work both in Australia and overseas. He has been in parish ministry in the Dioceses of Bathurst, Ballarat, Newcastle and Gippsland, where he was elected as diocesan Bishop in 1994. His work overseas as a lecturer in the New Testament and in Koiné Greek has taken him to many corners of the globe – to Panama, Singapore, India, Peru, Papua New Guinea, and the Philippines. He now lives in Manila, where he is the rector of Holy Trinity Episcopal Church, Forbes Park.
May these reflections spark your imagination as we prepare for the coming of God among us at Christmas.
In Christ,
Robert McLean
Partnerships Coordinator
Download document

468 KB