ABM Archive Website
THIS WEBSITE CONTAINS ARCHIVE MATERIALS FOR HISTORICAL REFERENCE ONLY
For up-to-date information, including our latest appeals, news, and resources, please visit our current website.
2016 Partners Magazine Autumn Edition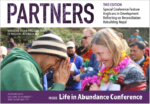 Dear Friend,
In November 2013, at Busan in South Korea, the World Council of Churches, at its General Assembly, adopted a new Affirmation on Mission and Evangelism, entitled Together Towards Life. This affirmation reflects some significant changes in the understanding of mission and is a document which deserves much more attention throughout the Anglican Church of Australia. However, in my time in ministry and especially at ABM, I have often been struck by how frequently in the life of the Church theory comes after the actual practice and these missional changes are no exception.
The recent mission conference held at Trinity College, appropriately named Life In Abundance, features prominently in this edition of Partners. As part of the planning committee, I was not conscious that at any stage we sought to incorporate aspects of Together Towards Life into the program. Yet, as I now look back and reflect on the inputs and outputs from the Conference, it is abundantly evident that the theological principles and values which underpin the Affirmation have already taken root amongst us and begin to bear fruit.
Central to this Conference was the clear and profound understanding that mission is part of the nature of God – it lies at the heart of the Trinity. It is God's mission and it is Creation focused. It is not solely about me, the Church or humankind. It is the fulfilling of all that God began and intended and it embraces the whole of Creation. We, the followers of Jesus, are called and led by the Spirit to recognize and participate in God's mission which manifests itself in an amazing variety of ways – many of which may be beyond our understanding.
Our engagement in mission, much like the ministry of Jesus, is built upon a witness which expresses its faithfulness to God through hospitality, mutuality and respect – all of which seemed to be in abundance at the Conference. Furthermore, through the simple yet erudite presentation of Stephen Bevans on the recent Apostolic Exhortation by Pope Francis on mission, it was heartening to discover that there was so much common ground and goodwill.
You can find more information about the Conference, including recordings of many of the keynote sessions on ABM's website at: www.abmission.org/anglife
Yours in Christ,
The Rev John Deane
Executive Director
View the 2016 Autumn Partners Magazine online
Download document

2.1 MB