ABM Archive Website
THIS WEBSITE CONTAINS ARCHIVE MATERIALS FOR HISTORICAL REFERENCE ONLY
For up-to-date information, including our latest appeals, news, and resources, please visit our current website.
Kenya: Sustainable Livelihoods Program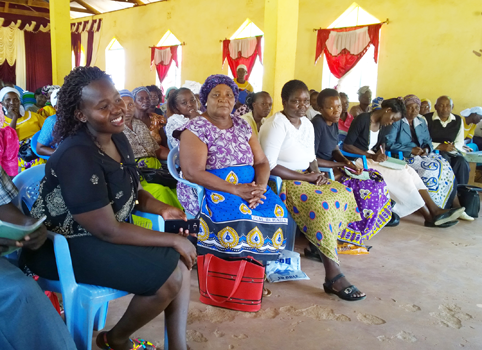 CBO Meeting in the Kiangini location. © Julianne Stewart/ABM, 2017.

This year we aim to:
build one new sand dam, and one sump well to provide clean drinking water for 300 households,
two water tanks to provide drinking water for 600 pupils in two primary schools, and
train 940 farmers in improved livestock and crop production.
In the village of Kiangini in semi-arid Eastern Kenya, unpredictable rains, frequent long dry spells, and drought and hunger have been the norm for the 5000 people living there, as far back as anyone can remember. But the people are resilient, and patient. And now their opportunity has come.
ABM, through its Kenyan partner, Anglican Development Services, Eastern (part of the Anglican Church of Kenya, and known as ADSE), has begun funding a five year Sustainable Livelihoods Program in Kiangini. Five years because that's how long it takes to transform an arid-land village from living from hand to mouth on whatever food the unpredictable rains can provide, to a village where people not only have enough to live on, but have enough to flourish as God intended.
The process of transformation is to firstly focus on getting the people organised into a well-functioning Community Based Organisation. Next, using the newly organised groups, the unpredictable rainfall can be addressed by starting to build simple small dams along the sandy bed of the local seasonal river, which normally only fills briefly with water once or twice a year. Whilst some of this water is retained in the sandy bed, most is quickly lost to the Indian Ocean. The dams help to build up the volume of water that is stored between rainfalls in the sandy river bed.
Once the water supply and storage issue has been addressed, the people are given training in a range of farming practices which will help them harness their land to produce food surpluses which can be sold for cash.
With a little cash now in their hands, the villagers will also be trained in operating Village Savings and Loans groups. Out of these groups of about 30 people, and with a great "can-do" attitude, the savings in the village grow exponentially. Suddenly people find they have enough saved to borrow to pay school fees, or uniforms. Once initial loans are repaid, the saving continues and they can borrow more. Perhaps it will be used to build a farm pond to farm fish for sale, to buy drought-resistant galla goats, or to set up a chicken smoking business.
36 year old Titus Muinde lives in Kiangini with his wife and two small children. He learned last year that ABM's partner had just started working in his village. He's already joined the Community-based Organisation, and is vice-chairman of the Project Monitoring Committee, checking on the progress of water harvesting in the village. He is very enthusiastic about the work ADSE is doing with his community, and has already attended training in how to terrace the hillsides to retain dew and rainwater, and how to grow drought-resistant crops. Because of his enthusiasm, he was selected to host a "demo plot" to show other farmers how to grow crops such as green grams, cow peas, finger millet and sorghum with little water. Titus says:
"It is through my effort of implementing the good agricultural practices trained by ADSE team that I am now able to harvest something. This is in comparison with my neighbours who did not terrace their farms and prepare their lands well, leading to total crop failure".
Because of his early success, Titus is now planning to have a cereal store in the nearby market. And his plans are likely to succeed, if the stories of transformation from previous villages where ADSE have worked, with ABM's support, are anything to go by.
You can be part of this story of transformation. You may wish to contribute towards funding the miracle of a new sand dam, or training for Titus and farmers like him. Or you may want to help fund the cost of seeds so that people like Titus can grow drought- resistant crops and thus ensure food for their families. Whatever you decide to fund, you can be sure that Titus and his fellow villagers will be delighted with the tangible assistance they are getting from ABM supporters.
KE001IC needs $48,824 in 2019 (tax-deductible)
A galla goat (large, drought- resistant) costs $67.
It costs only $60 to provide a year's supply of seeds for three farmers, providing food for their families and crops to sell.
A training workshop typically costs $500 to train around 120 people.
A sand dam which provides water for up to 900 people costs $9,500.
| | |
| --- | --- |
| | This project receives partial funding from the Australian Government. |
HOW TO DONATE
You can make an online donation to this project.

Alternatively, for donations by cheque/money order (made out to the Anglican Board of Mission – Australia), telephone or email, view contact details here. Please don't forget to include the project name and/or code with your payment details.
Gifts to ABM will be applied to the support of project(s) selected. In the unlikely event of the project being oversubscribed or not proceeding to completion, donations will be applied to a similar project to the one(s) selected.
PROJECT UPDATES
December 2019 – This article on our Kenyan partner Anglican Development Services, Eastern, shows how ABM supports its partners to increase their skills in advocating for Climate Justice. Read more
In 2018, ABM conducted an evaluation of ADSE's 2014-2017 Integrated Food Security Program. A summary of the findings can be found here.
FEATURE STORY
Part 1 – Mr. Titus Katumo Muinde is a hard-working and industrious man. He lives in rural Kenya with his wife and two pre-school aged children, in the flat, dry plains around Kiangini in the county of Makueni. Read more.
Part 2 – Hear in Titus' own words his journey to agricultural success over the past several years. Read more.
< Back