ABM Archive Website
THIS WEBSITE CONTAINS ARCHIVE MATERIALS FOR HISTORICAL REFERENCE ONLY
For up-to-date information, including our latest appeals, news, and resources, please visit our current website.
Kenya:Sustainable Livelihoods Program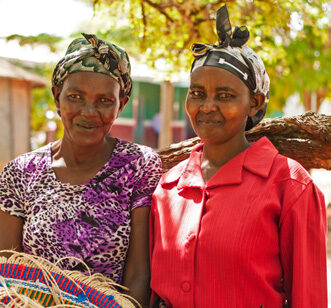 This program is reducing hunger and increasing the incomes
of woman-headed households in regions of Kenya.
© ABM, Ivy Wang 2015.
This is part of the Community Development Program: Learn more about ABM's Programs here

In 2017 ABM visited its partner in Kenya, the Anglican Development Services Eastern (ADSE) to discover some of the benefits of the Sustainable Livelihoods Program first hand. Staff went to several project sites with the team, and spoke with the members of the community-based organisations that are supported by ADSE and the ABM program.
There were many stories of challenges and triumphs, of overcoming obstacles through hard work, persistence, and carefully
implementing the training provided by ADSE.
It is evident the Sustainable Livelihoods Program has had a significant impact on reducing hunger and increasing the incomes of the local farming communities, many of which are made up of woman-headed households in regions of Kenya.
One example is the story of Angeline Kalokwo, a member of the Village Savings and Loans group of the Makakya organisation.
Angeline spoke with ABM's Julianne Stewart about the many important changes she had experienced since the project began in 2014:
"Personally, because of the Village Savings and Loans Group, I'm able to send my kids to school and pay the fees. I'm a beneficiary of Kainyowe Sand Dam, one of the project's activities, and I'm doing well. I've planted tomatoes, bananas and even mangoes near the sand dam. I'm able to sell these and get good money."
"Previously I never used to wear good clothes, such as the suit and shoes I'm wearing now. My self- esteem is very high. My husband is now also very clean and healthy, and also wears good clothes.
"My husband and I are both members of groups (different self-help groups) and we make decisions together. Previously we could not reason together, due to poverty but now there are many opportunities to make decisions together. For example, how to spend our money, and how to improve our farm business.
"Once, we used to cook Ugali (staple maize, water and fat dish in Kenya) and have it with Kimboke (a weak porridge made of maize flour, water, fat and onions). But now we cook vegetables with our Ugali. There are vegetables in the market here now that never existed before. Previously the vegetables came from far away and were too expensive for us to buy.
"Husbands are no longer looking for work in Nairobi. In Africa it is a big cause of shame for men not to have enough money to care for their children and wife. They go to the city to look for work, but they don't get good jobs, and have many additional expenses in Nairobi. When they return it is good, because they help the security of the community and add to the labour force. And they are able to stop land encroachment practices that some neighbours engage in. So they protect the home and property of the family."
Your generous gift to this project is making a huge difference in the lives of locals like Angeline. This project is enabling the Anglican Development Services Eastern to provide essential training to people, assisting entire communities to escape from poverty and become proudly selfsufficient.
KE001IC needs $70,081 in 2018 (tax-deductible)
| | |
| --- | --- |
| | This project receives partial funding from the Australian Government. |
HOW TO DONATE
You can make an online donation to this project.

Alternatively, for donations by cheque/money order (made out to the Anglican Board of Mission – Australia), telephone or email, view contact details here. Please don't forget to include the project name and/or code with your payment details.
Gifts to ABM will be applied to the support of project(s) selected. In the unlikely event of the project being oversubscribed or not proceeding to completion, donations will be applied to a similar project to the one(s) selected.
Project Update
April 2018 – What is a Kenyan farmer's prized possession? Read about Mary Maundu and her family, and how Anglican Development Services Eastern is making a difference to their lives and others. Read more.
November 2017 – "I am so happy because I have been taught new things.. and it has transformed our life." The Livelihoods project is providing many new opportunities for people like Rebecca in Kenya. Read more.
Feature story
Part 1 – Mr. Titus Katumo Muinde is a hard-working and industrious man. He lives in rural Kenya with his wife and two pre-school aged children, in the flat, dry plains around Kiangini in the county of Makueni. Read more.
Part 2 – Hear in Titus' own words his journey to agricultural success over the past several years. Read more.
Of One Heart and Mind
This 10 minute video describes how the food security and integrated community development work being undertaken by the Anglican Church in Eastern Kenya is transforming lives in rural communities. The video links the Millennium Development Goals to real activities happening at the community level.
Newsletter from Anglican Development Services Kenya
Read about climate change adaptation in ADS Kenya's August 2015 Newsletter
< Back